WARMPATH
EATS STANDING TABLE
The Warmpath model is designed to decorate your office, kitchen, reception room or meeting room with luxury as admirable as it is practical. With a design as precise as it is meticulous, Warmpath catches the eye as much as it warms the heart.
This table took us more than 4 years of studies and tests to offer you this atypical fireplace table.
Its integrated fireplace model is fully thought out to be as elegant as it is safe. The Warmpath can accommodate between 4 and 6 guests.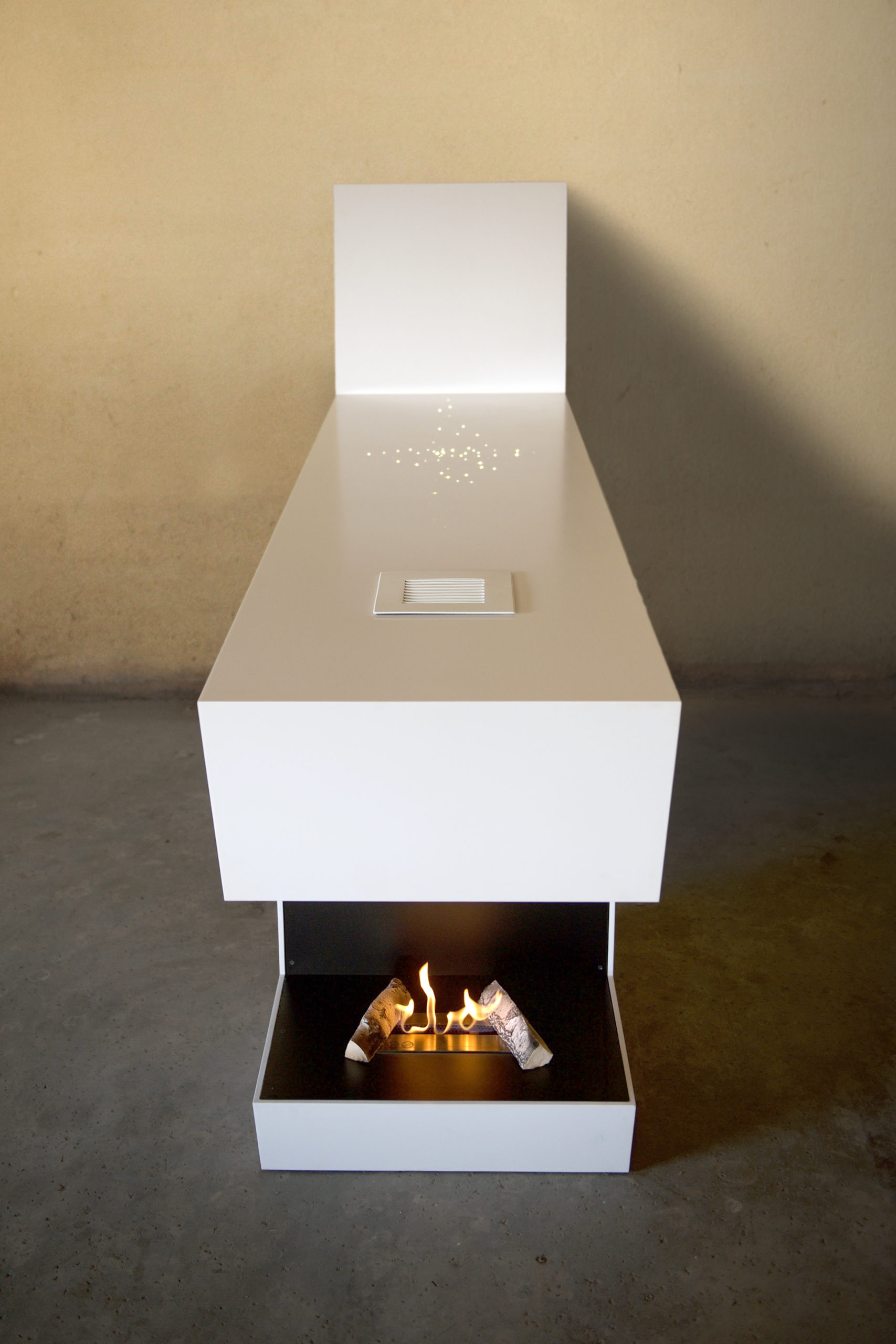 The Warmpath model can be created in an array of 25 colors.
A bioethanol fireplace table: an aesthetic added value and an environmental advantage!
Bioethanol makes it possible to obtain a real outbreak without complex installation. The bioethanol fireplace can be embellished with pebbles or ceramic logs according to individual tastes.
Bioethanol is part of the agrofuels family. It is a biological fuel made from beet, sugar cane, wheat or even corn. It is then fermented and distilled until it is pure, organic alcohol.
It is very cost effective, easy to use and safe. Its combustion is clean, because it does not emit any black smoke, no odor and leaves no residue.
Ecological, its CO² release is equivalent to the air we breathe.
In terms of heat, the heat output of the fireplace table is 2000 watts, which provides excellent additional heating. The table can heat a room from 1 to 3 degrees in just 1 hour.
For customization, the dimensions of the fireplace must remain the same for safety reasons. However, we offer you a multitude of options to make your creation unique.
Dimensions: 2849mm x 750mm x 1081.1mm.
Possible options : Optical fiber and backlighting = a logo, a sentence directly in the table thanks to the optical fiber or the backlighting.
Accessories and extras : Electric price, USB price, recessed retractable television, bluetooth speaker or built-in computer keyboard, odor diffuser, warming plate, additional ceramic logs.
Warmpath tells the story of two familiar objects, a fireplace and a table, which meet on a winter day. Their dialogue gives life to an unexpected form. The fireplace radiates, the table brings people together. With Warmpath I wanted to create an experience that unites the soul of these two objects. The flame lights up the world around it, and its heat travels the body of the table, giving a pleasant feeling to the touch. More than an object, Warmpath transcends the ordinary, and invites us to see the world differently.
Michaël Harboun – Designer Warmpath